Culture Shock Phase #2: 'Another day, Another Leone.'
I dont really have much to say today. Just feeling a little homesick.
I been reading alot about culture shock and how you go through 4 phases and...yea ... I must be going through phase two right now. 
My Current Mood:
I'm over the lizards and snakes.
Why is Thanksgiving NOT Thanksgiving?.
"Can I get a number two with fries(excuse me, Chips).....O! I can't?....OK, I'll take Plasas with white rice please." 
"No I don't want you to be my friend" 
Can I just be friendly without you hitting on me....My GAHD
But anyway,  to fulfill my personal obligation on keeping tabs of all of the things that I have been seeing and learning, here are some pictures and as far as what have I been learning??? ......Hmmmm, A whole awful lot about myself. Hence the post lol.
so here you are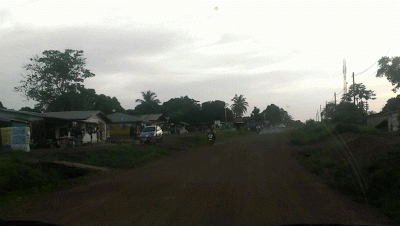 A piece of the drive home.
made 'native' chicken the other day. I was excited to watch the process and it was ummm...II'll stick with the grocery store
f you watch closely you will see the snake slithering. I just needed a pic. ran in the room immediately after and didn't sleep for the rest of the night. hahahahahahaha
Love GIF its worth more than a thousand words.
Just chilling outside of my room. Yea, I just need alone time..BTW. Seat of the Soul is a great read!
There are like a Gazillion birds in this tree I tried to capture it the bet way I knew how. The sound in the morning is lovely. It makes me think of the Cinderella for whatever reason.
Please reload